PRODUCTS
See our detailed chart
We have a wide range of vegetables. The following charts are organized by the type of certification, each indicating what products we can offer. If you need any other product that is not on the lists, please get in touch with us to discuss your request.
CERTIFICATIONS AND BRANDS
| | |
| --- | --- |
| ECO | Certified organic production |

It guarantees that the products are produced or processed according to the rules of organic farming, and have been controlled throughout the process of production, processing, packaging and marketing.
Organic plant products are grown without chemical fertilizers or synthetic pesticides (fungicides, insecticides or herbicides), and therefore, without residues of these substances.
| | |
| --- | --- |
| PI | Integrated Production certification |

Following a production system of quality food using environmentally friendly methods to human health and the environment. Minimizing the use of chemicals and fertilizers using processes that promote diversity in the agricultural ecosystem.
| | |
| --- | --- |
| GG | GlobalGAP certification |


Certification worldwide for producing safe and sustainable food implanted among companies.
The whole process of production, processing, packaging and marketing to ensure maximum food safety and welfare of workers and the cutlivation environment.
| | |
| --- | --- |
| IGP | Protected Geographical Indication |


Distinctive quality, set by the European Union, by which certain products of the Department of Agriculture, Livestock and Fisheries of the Generalitat of Catalonia are distinguished.
These products differ in their method of production and processing of raw materials originating from a particular geographical area. These are products of organoleptic characteristics and exceptional quality.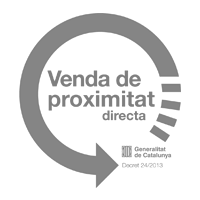 Sale of agricultural products of the land that brings closer the producer to the consumer and helps to reduce the impact of transport and distribution in the environment.
The distances get shorter favoruing the local consumption.

Watermelon brand "Fashion" is characterized by its great sweet taste and crunchy texture, contains no seeds and maintains the traditional aspect of a watermelon.
Following some quality regulations in order to ensure the highest quality in the final product.
ANNUAL PRODUCTION SCHEDULE

Click to download the annual production schedule in PDF
INTEGRATED PRODUCTION
| | | | | | | | | | | | | | | | | |
| --- | --- | --- | --- | --- | --- | --- | --- | --- | --- | --- | --- | --- | --- | --- | --- | --- |
| | | PI | GG | IGP | Jan | Feb | Mar | Apr | May | Jun | Jul | Aug | Sep | Oct | Nov | Dec |
| Cabbage kale | | | | | | | | | | | | | | | | |
| Cauliflower | | | | | | | | | | | | | | | | |
| Green Broquil | | | | | | | | | | | | | | | | |
| Romanesco | | | | | | | | | | | | | | | | |
| Endive | | | | | | | | | | | | | | | | |
| Curly endive | | | | | | | | | | | | | | | | |
| Smooth parsley | | | | | | | | | | | | | | | | |
| Curly parsley | | | | | | | | | | | | | | | | |
| Leeks | | | | | | | | | | | | | | | | |
| Calçot | | | | | | | | | | | | | | | | |
| Fennel | | | | | | | | | | | | | | | | |
| Peas | | | | | | | | | | | | | | | | |
| Bean | | | | | | | | | | | | | | | | |
| Pumpkin | | | | | | | | | | | | | | | | |
| Pumpkin Halloween and decoration | | | | | | | | | | | | | | | | |
| Zucchini | | | | | | | | | | | | | | | | |
| Pepper (Italian, Mini and Lamuyo) | | | | | | | | | | | | | | | | |
| Watermelon Fashion | | | | | | | | | | | | | | | | |
| Small seeded watermelon Premium | | | | | | | | | | | | | | | | |
| Watermelon mini | | | | | | | | | | | | | | | | |
ORGANIC PRODUCTION
| | | | | | | | | | | | | | | | | |
| --- | --- | --- | --- | --- | --- | --- | --- | --- | --- | --- | --- | --- | --- | --- | --- | --- |
| | | BIO | GG | IGP | Jan | Feb | Mar | Apr | May | Jun | Jul | Aug | Sep | Oct | Nov | Dec |
| Cabbage kale BIO | | | | | | | | | | | | | | | | |
| Cauliflower BIO | | | | | | | | | | | | | | | | |
| Calçot BIO | | | | | | | | | | | | | | | | |
| Artichoke BIO | | | | | | | | | | | | | | | | |
| Leek BIO | | | | | | | | | | | | | | | | |
| Zucchini BIO | | | | | | | | | | | | | | | | |
| Pumpkin BIO (round, violina, carruecano…) | | | | | | | | | | | | | | | | |
| Fashion watermelon BIO | | | | | | | | | | | | | | | | |
| Small seeded watermelon Premium BIO | | | | | | | | | | | | | | | | |
| Mini watermelon BIO | | | | | | | | | | | | | | | | |